Shelly Davis
Contract File Manager Shelly's background includes more than a decade as a title closer. Shelly runs our contract file system by overseeing all of our agents file submissions along with her team, and making sure to keep the entire file system in check. If you have any sort of contract submission question, Shelly is the person to ask!
Hannah James
Accounting  Manager Hannah manages book keeping for Your Castle, sends and manages invoices, cuts checks for agents and can answer all your accounting questions. She will be your best friend since she can answer all your money questions!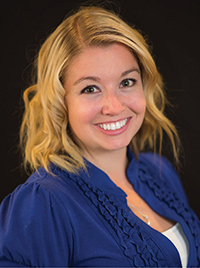 Brandi Howard
Project Manager & Training Calendar Coordinator Brandi runs our training calendar and is the point of contact for new hires and any questions they may have. She also works on larger scale office projects. For class and training questions, or agent on-boarding questions she is your go-to person!
Tiffany Chin
Marketing Manager Tiffany is your go-to for your marketing needs. She develops marketing materials for agents such as campaigns, presentations, advertisements and much more. She educates new hires on the marketing team, coordinates our Premier marketing materials and creates the monthly newsletter.
Liberty Kellokoski
Marketing & Design Coordinator Liberty designs and creates marketing materials for agents including flyers, business cards, postcards, presentations, advertisements and much more. Whether it's template based or custom design, he can help answer all your design questions.
Montrece Hill
Print Production Assistant Montrece helps coordinate all of Your Castle's print production needs. She manages the print room and can print simple print jobs such as a listing flyer or set up unique print jobs.
Katie Heinsohn
Recruiting and Events Coordinator Katie assists the business development team with ongoing agent support and coordinating appointments. She is also the event coordinator and handles all sponsorship inquires, agent networking events and large scale company events.
Renee Braucht
Receptionist Renee is our first point of contact for our agents. She can assist with agent mail, scheduling meetings with Eric Romero and Channing and tell you the class line up for the day.
Cary Sanger
Employing Broker of Your Castle Realty Cary serves as employing broker for Your Castle Realty and is the point of contact for all agents in that brokerage. He has extensive knowledge on contract writing questions, compliance questions and much more. He also teaches a variety of classes to our agents on multiple topics.
Monica Graves
Managing Broker Monica has an extensive background in REO's, Hud Properties and Short Sale listings. She is a member of the Vail Board and Employing Broker for Your Castle Mountain Properties. She also serves as a mentor for new agents and runs our Ninja Training program.
Tami Gottsegen
Managing Broker Tami has over 30 years of experience in many different areas of the real estate business. She is a managing broker and also serves as a mentor for new agents. She helps provide the agents with the most complete information, advice and supervision by reviewing agent files and answering all their questions.
Glenda Fountain
Managing Broker Glenda has over 30 years of experience in residential real estate. She maintains regular office hours and meets with agents by appointment at the main or the north office. She assists new and experienced agents with writing contracts, working through issues, CMA valuations, and general real estate business advice.
Shauna Long
Managing Broker Shauna began selling homes in 1993 working on-site for new construction. Since then she has become an investor, and purchased and remodeled various rental condos and homes to keep as rental properties. Her main focus at Your Castle is to provide the final review of YC broker files.
Serena Billmayer
Managing Broker Serena has been in the real estate industry since 2002 where she worked in new construction and onsite sales consultant and resale broker. She is very knowledgeable in IRA transactions as well as seniors real estate. She serves as an on-call Managing Broker for Your Castle.
Channing Johnson
Tech & Web Productivity Coach Channing is here to help you save time and get organized using Microsoft Outlook, Top Producer and other database management software. He is tech savvy and can help sync all your devices, show you how to use "the cloud" to give you access to your files anywhere, and help you set up your social media accounts and website.